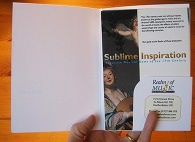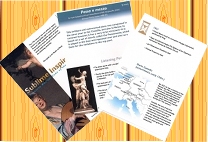 In our quest to offer the best possible musical experience to our audiences, we realised that providing musical signposts, and a real sense of connection to context in which the music was written was essential. Our experience tells us that people come to listen to the music, not read pages of notes, so we devised a system of 'at a glace' notes, using diagrams, pictures, and some text.
These Listening Guides enhance any narration taking place during the concert.
Inside are around 6 - 8 cards printed double sided; the above example shows the first three cards of this pack. The guides are also available in simple A5 booklet form.