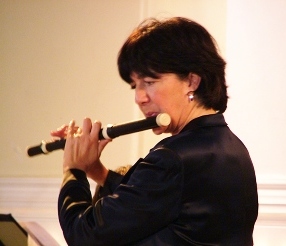 Enter the intoxicating sound world of baroque Versailles, its Kings and courtiers - a world of symbolism and artifice, sophistication and intrigue.
This is the world of Watteau's Fêtes Champêtres, where beautifully dressed 'peasants' dance gaily to the music of the bagpipe (an erotic symbol) while real peasants, dressed in rags, look on.
These popular pastoral scenes were used in ballet and operas - as the orchestra played the pastoral scene in the operas, these "Arcadian" strains set hearts fluttering with excitement as memories of the Amusements Champêtres were evoked...
Claire Guimond - flute
Penelope Spencer - violin
Reiko Ichise - viola da gamba
Silas Standage - harpsichord
Concert Programme
J-B Lully (1632 - 1687) - Passacaille from Armide
Jacques Hotteterre le Romain (1673 - 1763) - Echos
Marin Marais (1656 - 1728)
- La Sonnerie de St. Genevieve du Mont de Paris
- Fêtes Champêtres
Francois Couperin (1668 - 1733) - Rossignol en amour
Jacques Duphly (1715 - 1789) - La de Redemond
Georg Philipp Telemann (1681 - 1767) - Nouveau Quattuor No. 1
Listening Cards